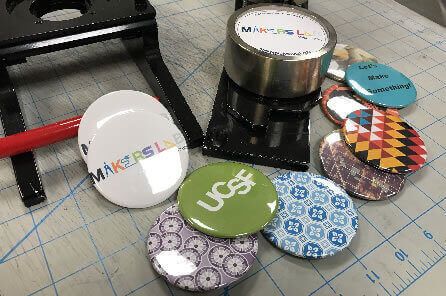 The button and magnet making machines are easy and fun to use. The Makers Lab has 1" and 2.5" button/magnet making machines. Download the button template below, design your button, print, and come to the Makers Lab to make your button or magnet! Printers are available in CL-230 in the UCSF Library.
Visit anytime the Makers Lab is open (Monday–Friday, 10am–6pm) to make buttons; no reservation needed.
Buttons (and magnets) are a lot of fun, we just want to make sure there are plenty for everyone. We ask that you keep your making to 5 buttons/magnets per visit. Need to make more than 5 buttons for an event or department? Email us at makerslab@ucsf.edu for information on ordering materials to use in the Makers Lab.
2.5" Button/Magnet Resources
1" Button/Magnet Resources